FREE US SHIPPING ON CHAIN ORDERS OVER $99
How to find the right chain ?
IDENTIFYING AND REPLACING CHAIN
In many cases, Oregon offers multiple saw chain options for chainsaws. Here is information to help you determine the right saw chain fit-up for your chainsaw and the different chain types to meet the needs of different chainsaw users. Learn how to identify and replace chain by finding the chain pitch, chain gauge, and how to measure chainsaw chain.
Tools Required
Gloves
Chainsaw Filing Kit
Saw Chain Breakers / Spinners
SAW CHAIN IDENTIFICATION
To identify saw chain you need to know the following:
Gauge
Chain Gauge is the Drive Link's thickness where it fits into the guide bar groove, matching the guide bar gauge. The gauge of the chain and the gauge of the bar must match. Oregon has several gauges of saw chain: .043", .050", .058", and .063". Normal wear can make it difficult to accurately measure chain gauge on a worn chain. Always order by the number stamped on the drive link of your old chain to assure correct gauge. Please see table below for more information.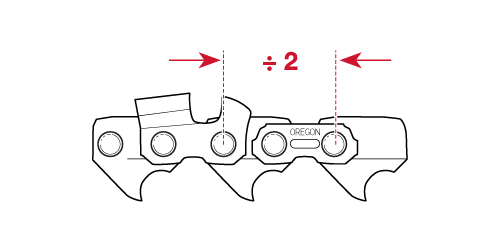 Pitch
Chain pitch is the size of the chain and is defined as the distance between any three consecutive rivets divided by two. Oregon chain is made in several pitches - 1/4" is the smallest, 3/8" is the most popular, and 3/4" is the largest. Pitch is important because the drive sprocket must be the same pitch as the chain, and if applicable, the bar nose sprocket. The easiest way to determine the pitch of your chain is to look at the number stamped on the drive link. Please see table below for more information.
Cutter Type
There are various cutter types:
1. Chipper
2. Semi-Chisel
3. Chamfer-Chisel
4. Micro-Chisel
5. Chisel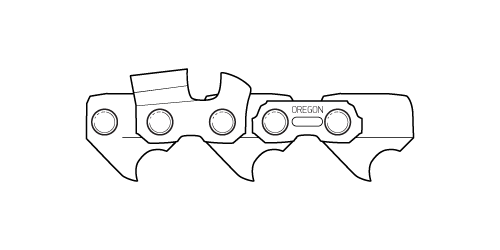 Sequence
Saw chain sequences include: standard, semi-skip, and skip.
Saw Chain Family Specification Chart — Servicing Dealer
Saw Chain Pitch
Saw Chain By Gauge 


 


.043"

.050"

.058"

.063"

1/4"

25

 

3/8" 
Low Profile™

 

90

 

91

.325"

 20

95

21

22

3/8"

 

72

 73

 

75

.404"

27

59

68